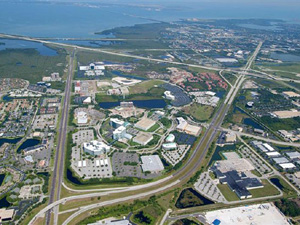 Printable Flier (Acrobat™)
Site Plan
Additional Photos
Get Map
Carillon Park Site

For more land information or to lease office space in Carillon Park, contact:


Mike Talmadge
727.214.4650

Interested in this property?
Click Here!
Carillon Park
ID# 71607
432 Acre Mixed Use Corporate Park

Major Employers Include: US Headquarters of Raymond James Financial, Aegon/Western Reserve Life, Allstate, Franklin Templeton, PSCU, Bright House Networks, and Catalina Marketing
"Smart" Design Includes:
Underground Utility Systems & Fiber Optic - Telecommunications Capabilities and Dual Feed Power for Redundancy
100 Acres of Conservation Area
1997 Winner Associated Builders & Contractor's of America "Excellence In Construction" Award for its Lake Carillon Interpretive Walk Project.
A $1 Million Natural Preservation/Boardwalk

Carillon Park is the premier multi-use park on the West Coast of Florida. This 432-acre office and multi-family residential park is strategically located in the Gateway area of Tampa Bay, convenient to Tampa, St. Petersburg and Clearwater. The Park has many amenities including an award winning boardwalk and jogging/fitness trail.